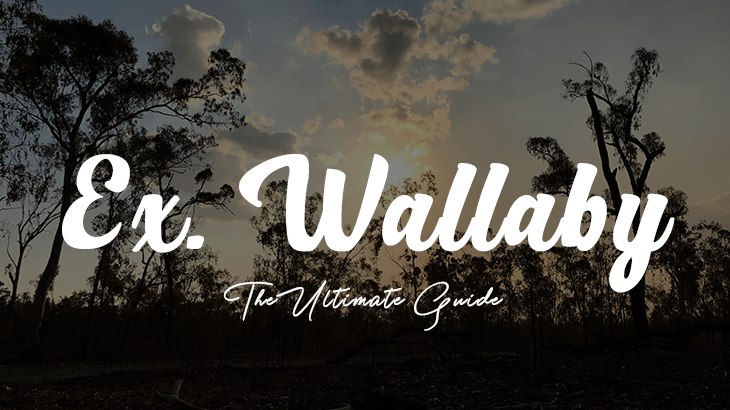 The Ultimate Guide To Exercise Wallaby for NSFs
I was an Armour Infantry Trooper from 41 SAR. I was involved in Exercise Wallaby 2017 for my unit's Rotation 5, also known as ATEC as the final evaluation before we ORD. It was tough but it was also a really really memorable experience.
I know you definitely have a lot of questions, doubts and concerns regarding Ex. Wallaby if this is your first time going, i.e. what to bring, what not to bring, how to prepare, what to expect, etc.
In this post, my goal is to provide you with all the necessary information you need for your upcoming Ex. Wallaby based on my own experience. I'm confident that you'll be much more mentally and physically prepared with the help of my sharing in this page.
This post will be long but this will definitely be the most comprehensive and detailed resource on the Internet for people going to Wallaby.
(P.S. Some of the abbreviations for Exercise Wallaby are Ex. Wallaby & XWB)
More...
Some Facts About Exercise Wallaby
Just for your information if you don't know yet, Exercise Wallaby is an SAF annual overseas exercise held at Shoalwater Bay Training Area (SWBTA) 100km north of Rockhampton.
The exercise is usually held around Sept/Oct to Nov/Dec period and the typical training duration is 3 weeks. If you're in Armour, Guards, Motorised Infantry, Signal, Logistic & Air Force, you'll probably have a chance to visit Shoalwater Bay in your NS journey.
1990 is the inaugural year for Ex. Wallaby with around 1,200 SAF personnel involved. Today, there are around 6,600 SAF personnel involved in this big annual event. By 2021, up to 14,000 SAF personnel will be involved!
There are 3 camps located at Shoalwater Bay Training Area, namely Camp Growl, Tiger Hill Camp and Samuel Hill Camp. I stayed in Tiger Hill Camp during Ex. Wallaby 2017 so the sharing in this post is most relevant to those going to Tiger Hill Camp. Although there are a few differences for each camp, the overall environment should be very similar. 
P.S. "Wallaby" is the name of a small sized kangaroo species. Although we tend to say "We're going to Wallaby", just take note "wallaby" is NOT a place.
A Rough Description of What's Gonna Happen Based on My Own Experience
I'll classify the whole journey into 4 different stages: Preparation, Transportation, Exercise & Home Sweet Home.
Preparation
The force prep and packing for Exercise Wallaby is very tiring and laborious. You'll start to help cleaning and packing all the store items & weapons about 3 months in advance. Personnel from Australian government will come and inspect the cleanliness because they're very particular about anything that may pollute or affect their nature. All these store items and weapon will be sent over to Australia using crate boxes and containers. 
About 2 to 3 weeks prior to your flight, you'll start to pack your own personal items into your duffel bag. This is another troublesome and tiring part. You'll need to clean all your personal equipment thoroughly - your duffel bag, field pack, assault bag, boots, helmet, IBA, etc. You also need to untie your bootlaces, unweave IBA pouches, kiwi boots and even kiwi your duffel bag just to make it looks more clean.
Packing all your stuffs into your duffel bag is another trouble as well. Imagine you need to squeeze all your helmet, IBA, bags and other equipment into your duffel bag. Your duffel bag will be extremely packed and you'll have a hard time zipping it up. Sometimes you need two or three people to zip the duffel bag together.
The thing doesn't stop here. Some of your duffel bags will be randomly chosen by the personnel from Australian government to do a spot check. If you're the unlucky one, you'll need to open up your duffel bag again and everything out for them to inspect.
After the inspection is done, they will seal up your duffel bag with a big plastic wrapper and send them to the airport for you. The next time you'll see your duffel bag is at Rockhampton Airport.
So make sure you pack everything you need into the duffel bag before the inspection, especially your shampoo, body soap, lotion, SOG, knives, etc, because these are the stuffs you cannot put inside your hand carry civilian bag.
Transportation
You'll be taking charted flight from Changi Airport to Rockhampton Airport straight. After that, you'll collect your duffel bags and board the bus to your respective camps. The flight duration is about 7-8 hours and the bus ride is about 1.5 to 2 hours.
Some of you may have the misconception that everyone will be taking Singapore Airlines. The reality is that this will totally depend on how they plan and book the charted flight. For my batch, there are three Airlines involved, namely Singapore Airlines, Royal Brunei Airlines and Qantas Airways.
There will be a few different outbound waves according to the flight schedule and your appointment. If you're a vehicle crew or you have a more important appointment, you'll be flying over at an earlier date.
On the day itself, report to Changi Airport straight, two hours before the flight timing. (Which Terminal will depend on your flight.)
Meet up with your commanders to collect your Travel Order. You don't need to bring your passport because you'll be traveling with the Travel Order and your 11B. If you're a commander yourself, you may be the one giving out the Travel Order.
Exercise
What I can share about the exercise is only relevant to people from Armour Infantry. If you're going Ex. Wallaby from other vocations, you have to find out more from your commanders, regulars or those who went before.
For AI, the exercise can be classified into 3 main stages: Preparation, ATEC and Live Firing.
After you reach your camp, you'll start preparing all your necessary equipment and vehicles for the first few days. There's not much time for you to relax and get used to the environment.
Vehicle crew and troopers will be separated for your own respective component training. For drivers, there's an advanced driving package for you to familiarize to the terrain. For troopers, there's a route march and some component training to refresh your drills.
After the component training, you'll embark on a 2 to 3 days R5A, a mini ATEC before your actual evaluation.
There will be a few days of rest after R5A to prepare for R5B which is the actual 5 Day 4 Night ATEC evaluation.
After R5B, there will be another few days of rest to prepare for the Armour Battle Group (ABG) Live Firing. The firing only takes one day. There's only day shoot, no night shoot.
Home Sweet Home
After everything is completed, there will be a 2 Day 1 Night Rest & Recreation (R&R) before your flight back to Singapore. I'll talk more about R&R in the next section.
You'll be taking another chartered flight back to Changi Airport from Rockhampton Airport. After that, you can collect your duffel bag and go home straight. The number of offs and when to book in again will depend on your company's schedule.
Not Sure What to Do After ORD?
---
9 Most Critical Concerns for NSFs in Ex. Wallaby
Wallaby is an entirely new environment to accommodate. I know how you feel right now because I had been through it. Below are the 9 most critical concerns for most NSFs going to Ex. Wallaby for the first time. I hope this can ease your tense feeling right now and help you better prepare for Exercise Wallaby!
#1 Phones, SIM card & Internet
Internet is very important today and this will always be the top concern for Wallaby, especially when it's the only way for you to keep in touch with your family and girlfriend.
The sad thing is that there are only receptions at specific areas (i.e. camps) and the internet is quite slow most of the time (exacerbated by the amount of people using it). There are no reception when you're out in the field most of the time. The only effective way of communication in the field is definitely your comms and signals.
I didn't bring my phone to outfield but many of my friends did. The only thing you can do with your phone in the field is to take photos! (But take note, it's definitely not allowed)
The only effective telco there is Telstra, so don't waste your money purchasing SIM cards from other telcos like I did.
A lot of people in the past said it's hard to purchase a SIM card there so it's best to get your SIM card in Singapore first. However, it's quite easy to purchase a local SIM card for my batch because Telstra personnel was selling SIM cards there.
From my experience, the reception is pretty good in Tiger Hill Camp but the internet is not very fast. Generally, it took me 20-40 seconds to load one Instagram photo. But I was able to chat with my girlfriend over internet calls or even video calls quite smoothly. So you can definitely talk to your loved ones over internet calls.
I heard that Samuel Hill Camp has good reception as well but Camp Growl has relatively poor reception. I can't say much about both camps. I can only be sure that Tiger Hill Camp has pretty good reception.
There's a charging station for you to charge your phones and portable chargers. However, it's usually fully occupied and the charging speed is very slow due to the amount of devices charging at the same time. So it's best to have enough good portable chargers with you. Learn more about my recommendations at the essential items below. Stay tuned!
Let me give you the 3 Main Options you have to surf internet & contact your loved ones at Wallaby (in the order of recommendation):
1. Overseas Data Travel/Roaming/Passport Plans by either Starhub or M1
Data Travelling is the easiest, cheapest and most convenient overseas data plan for people with Starhub or M1 contracts. You just need to send a SMS to activate it.
For Starhub DataTravel, click here.
For M1 Data Passport, click here.
(DataTravel and Data Passport are the same thing, just a different name.)
(Take note: Singtel has no reception at Shoalwater Bay! If you're a Singtel user, check out the second or third option below.)
2. Starhub Happy Prepaid SIM
If you are not Starhub or M1 contract user, Starhub Happy Prepaid SIM is your next best alternative. After you've purchased the SIM card in Singapore, you just need to top-up your data using a Starhub App. The good thing is that you can top-up multiple times as long as your prepaid card has money.
Learn more about Starhub Happy Prepaid SIM here!
3. Telstra Prepaid SIM card
This will be the last option because you can only purchase the SIM card after you've reached Australia. Most likely you can't purchase it immediately after you touch down. The worst case is you don't even have a chance to purchase it due to various reasons.
Anyway, my friend managed to buy it after we reached Tiger Hill Camp - AUD$40 for 3GB data. Another disadvantage is that you cannot top-up your data balance. If you use up your data too fast, you'll have no more internet for the rest of your time there. This was what happened to my friend as well.
#2 Foods
You don't really need to worry about food because the cookhouse there is much better than the cookhouses in Singapore. The food there are prepared by our own uncles & aunties from Singapore Food Industries (SFI) who fly over to Australia together with the soldiers.
The cookhouse their is setup by tentages. Everyday there will be breakfast, lunch, dinner & Night Snack! The typical breakfast is scramble egg with sausage. (The scramble egg and sausage there are a lot better than Singapore ones.) What's more exciting is that there are toasters for you to toast your bread! Butter, jam and peanut butter are provided as well.
For night snacks, there are biscuits, porridge, red bean soup or even cup noodles. Rest assured that your tummy is well-taken care of at Wallaby (except outfields). In fact, having meals are one of the activities that I personally very look forward to everyday.
#3 Cigarettes
Even if you're not a smoker, this pertains to you as well.
The number of sticks you can bring from Singapore to Australia is very limited. My batch was 25 sticks per person. So even if you're a non-smoker, you'll need to bring cigarettes for your smoker friend.
For my batch, my platoon sergeant was able to get his friend in Australia to order cigarettes in bulk beforehand. On average it's about AUD$180 for 200 sticks. The price varies quite a bit depending on the brands. This one you'll need to ask your regulars if they have access to this.
I think you can buy cigarettes at Rockhampton Airport but it's extremely expensive.
Don't try your luck smuggling cigarettes. It's not worth it.
#4 Toilet & Shower Facility
I was quite surprised by the toilet in Tiger Hill. In the past, you literally need to shit in a shit hole and cover it up by saw dusts and the toilet area would be very smelly.
I think they've just renovated the toilet there. Now you have proper toilet bowls to do your big business. Toilet paper is also provided. There are people cleaning the toilet and resupplying toilet papers almost everyday so the toilets are relatively clean. (I'm not sure about Camp Growl and Samuel Hill though. But they are definitely upgrading more and more facilities there.)
As for shower, it is one of the most memorable thing as well. It's an open concept shower facility where you'll have a chance to be naked and shower next to your platoon sergeants, platoon commanders or even OC and CO.
There are water bags with ropes attached. You'll have to fill two buckets of water and pour them into the water bag. After that is done, you'll lift up the water bag with the rope just like how you raise flags. At the bottom of the water bag, there is a shower head which you can control the water flow. 
The good thing about showering is that there are both cold and hot water available so you can mix and match your best formula of cold and hot water. My recommendation is to have 75% hot water and 25% cold water.
There will sure be people trying to shower just by scooping water from the buckets and pour onto themselves. Don't try that because you'll feel colder due to the wind. It's best to have a constant flow of warm water from the water bag.
You may feel awkward at the start but once you get used to it, showering at Wallaby is very fun and refreshing, given that the environment there is so sandy and dusty!
#5 Accommodation
You'll be sleeping in big tentages which can accommodate up to 16 people. Also, you'll be given a safari bed, a pillow and a sleeping bag. There's no locker for you to put your stuff so make sure you lock your valuables inside your duffel bag before you leave the tent. There are small light bulbs inside each tent so don't worry that you can't see anything at night.
There are also large mobile lighting located at various locations in the camp so it's not too dark at night when you're in camp.
#6 Laundry
There's a free laundry service provided but it's quite troublesome. You can only send your number 4 uniforms and coveralls for laundry and it'll take at least 2 working days.
It's more convenient to wash your own clothes from the taps at the showering area. You can hang your wet clothes outside your tents and they dry very fast in the day due to the hot sun.
#7 Weather
The weather there is another memorable thing. The temperature difference between day and night is very huge. It can go up to 30+ Degree Celsius in the day and go down to 9 Degree Celsius in the night. (This is for the September period when I went there. It'll be hotter in October and November)
Despite the hot temperature in the day, you won't really perspire a lot due to the wind and the dry atmosphere there. So you won't be as sticky as you always feel in Singapore.
The downside is that it is very sandy and dusty there. You will be easily covered by sands. Your hair can easily change colour in the field because of all the sand particles. So, it's best to have wet wipes with you all the time.
Also, it's very very cold at night. In camp you still have your sleeping bags with you but in the field you only have long john, fleece jacket, IBA and Gortex jacket. Trust me, no matter how much you wear, you'll still feel cold at night. Just be mentally prepared first. Heat packs is definitely recommended.
#8 Mess/Canteen
There's a canteen owned by the local people in each camp. You'll be able to taste some of the local delights such as Chicken Kebab (like big satay), Kebana (Big sausage), etc. Since it's the only store there, the items are usually overpriced.
There's also a TV there showing movies most of the day. It's a good place for you to relax, eat canteen food and chat with your friends.
Below is a canteen menu at Tiger Hill Camp:
#9 Rest & Recreation (R&R)
Like I've said R&R is usually a 2 Day 1 Night event just before you fly back to Singapore. There's an Education Tour Package (ETP) for the first day which you'll be going to tourist attractions in Rockhampton like Capricorn Caves or Rockhampton Zoo.
The ETP will usually be half a day after you leave your camp. Afterwards you'll be going to your own hotels for your own free time. It's a good time to try out some local cuisines and buy some souvenirs back home. (I'll discuss about what souvenirs to buy later on.)
If you like clubbing, there's a club at Rockhampton called Zodiac & Xtreme Nightclub.
I personally didn't have a chance to experience my R&R because my company flew back to Singapore early due to the tragic incident of Gavin, a good Sergeant from my company.
So, for more information about R&R. please refer to Freedom Lucas's blog.
---
What to Pack? Top 11 Essentials
You will receive a packing list from your unit. Make sure you bring everything on the list. Followings are the essential items that were not listed on my packing list. These are the things that are indispensable for Exercise Wallaby from my own experience.
1. Portable Chargers
Portable charger is a must for Wallaby. But the more important question is how many portable chargers can we and should we bring.
For me, I brought 3 portable chargers and their respective capacities are 10,000mAh, 20,000mAh and 22,000mAh. These are more than enough for me to last 3 weeks without going to the charging station which is always crowded.
Just a rough guide for you, I used up the 10K and 20K ones and for the 22K, it left about half the capacity. However, this will totally depend on your own usage. I don't watch movies or dramas on my phone, neither do I play games. I only use my phone to call my girlfriend, keep in touch with my family, listen to music, surf some internet, Instagram and Facebook.
Here are my top recommended portable charges:
This is the powerbank I bought after researching online for some time. It's made in USA, not a Made in China product so its durability is definitely better. It's fire resistant and its huge capacity can fully charge iPhone 6S up to 9 times. This is the Powerbank that I will continue to use not just for Wallaby!
Xiaomi Powerbank 2 is the most common powerbank I see in Ex. Wallaby which shows that it is pretty reliable and affordable.
My recommended numbers of portable chargers to bring is at least 2 to 3. I don't know what's the maximum number of portable chargers you can bring on-board plane but 3 is definitely fine.
Refer to the images below for more info:
2. Wet & Dry Tissue
It's very very sandy and dusty everywhere in Wallaby. So you definitely need to have wet tissues with you most of the time to wipe off the dusts on your face and your hand. Sometimes you also need to wipe your safari bed with wet tissue then you'll realize how dirty it is! I was shocked at the amount of dust and sand when I wiped my safari bed after I came back from R5B.
Toilet papers are provided inside the toilet cubicles and they are resupplied almost everyday as well. But you may want to bring your own toilet paper just in case it runs out. Also, small packets of dry tissues are useful both in camp and outfield.
3. Camo Scarf & Balaclava
For my batch, we were issued with camo scarf and it was in our packing list for Wallaby. If not, you can purchase it from SAF E-mart. Camo scarf is a must during outfield to cover your nose and mouth as much as possible. This is to block some sands and dusts from your face. But its not very effective because there are a lot of big pores on it. I don't know why they made this scarf with such big pores but it's just how it was designed.
The exact name for the camo scarf at E-mart is called "Net Multipurpose Pixelised".
From my experience, Balaclava is much more useful because it covers up your whole head leaving just your eyes exposed to see. There are not big pores as well. You can have both to give you extra protection if you want.
Check Out This Awesome Balaclava:
There are a lot of Balaclava with different designs and different purposes. This kind of Balaclava with a dust-proof filter is by far the best one I've ever seen for Ex. Wallaby. It not only blocks more dusts for you, but it can also keep you warm at night.
---
FYI, SAF E-mart only sells the Balaclava in the picture below. It a simpler version and it can't provide you with the same amount of protection as the dust-proof one does. Anyway, the dust-proof Balaclava is pretty cheap so I would recommend you to get it for Ex. Wallaby!
Some of you may be wondering whether you can wear this to outfield at Wallaby or some of your commanders even said you can't use them. From my experience, a lot of people will be using it despite higher-up said not to. And to be honest, no one really gives a f**k about it at Wallaby during your actual mission/exercise. It's better to protect yourself and make yourself more comfortable using the Dust-proof Cotton Balaclava!
4. Aussie Dollar
You are recommended to bring about AUD$150. For me, I know I won't spend a lot of money so I only bring $100. I spent less than $20 on canteen food and around $30 in supermarket for souvenirs.
Generally, people spent a lot more on canteen food than I did. And if you are buying SIM card or liquor there, you definitely need to bring more. If you're a smoker, you'll need money for your cigarettes as well.
Another thing you may want to do is to enable your credit/debit card for overseas use. In case of any emergency or you want to buy more expensive things there, you can use it.
5. Cigarettes
Like I've said, everyone can only bring a very limited amount of cigarettes. So, if you're a non-smoker, you will need to help your smoker friend bring.
FYI, the spot check for cigarettes is only at the Australian Custom there.
6. Jacket
Please bring one civilian jacket for yourself. You'll definitely need it for taking flights, for R&R, or for everyday use. FYI, I wore my long john, fleece jacket (issued by your unit) and my own jacket to sleep. It's really that cold at night!
7. Lipstick & Moisturizer
The atmosphere is very dry there. So you must bring lipstick and moisturizer. If not, you'll be like me suffering from chapped fingers. I remember my nostrils were very painful as well due to the dry weather.
8. Waterproof Ziplock Bag for Phones
This is to prevent your phone from becoming sandy and dusty, especially if you want to bring outfield. Some people are using normal ziplock bags but there's one very good waterproof ziplock which you can get it from E-mart. It's more durable and provides a better protection.
Or you can select your favourite colour and size at the best price from Lazada here!
9. Heat Packs
Heat packs are useful at night especially during outfield. I bought mine from Watsons.
10. Hangers & Clips
You need hangers and clips to hang your clothes if not sometimes you won't have enough space to hang your clothes directly on the commscord. You also need clips to prevent your clothes from flying away. (The wind is pretty strong!)
11. Nail clipper
There's only one person in my platoon who brought a nail clipper. It turned out that everyone was borrowing from him.
Even if you've cut your nails before you fly off, your nails can grow a lot in three weeks. Some more there will be a lot of sands, dusts and dirt being trapped under your nails. Having long nails is not a good idea in Wallaby.
12. Socket Extension Cord (Optional)
My advice is to bring at least 2 to 3 portable charges to last you for 3 weeks so that you don't need to compete for the slow and limited charging ports.
Socket extension cord is just another equipment you may want to bring if you really need to charge at the charging station.
13. Hand sanitizer (Optional)
If you're more concerned about hygiene, you may want to bring hand sanitizer as well. If not, there are taps for you to wash your hands before meals in camp.
What NOT To Bring?
1. Food
Australian custom is very particular about this. There are things you can bring but to be safe, just don't bring any food. Anyway, the food there is good enough.
The only disadvantage is that you don't have the privilege to bring your own food and snacks to outfield like you did in Singapore. The reason is because you don't even have the opportunity to go to a supermarket and buy. At most, you can buy some expensive snacks from the canteen there and pack for outfield.
Anyway, Wallaby is the first time I see some of my friends eating combat ration. In Singapore they don't eat combat ration at all.
2. Contraband
This is very self-explanatory.
3. Exceeded Amount of Cigarette
Again, this is something they are very strict about. One of my friend managed to smuggle quite a lot of cigarette there because he didn't get checked by the MP/custom. But please don't try your luck.
4. Insect Repellent
The weather is too extreme and dry so there are really no mosquitoes to my surprise. I brought my own insect repellents there but never use them at all. 
---
Things To Take Note When Taking Flight
1. All batteries and portable chargers must be put inside your civilian bag for carry-on. NO batteries should be placed in checked-in luggage (your duffel bag).
2. Put all liquid items in your checked-in luggage (duffel bag), i.e. Shampoo, Body soap, Moisturizer, etc. If you want to put liquid items inside your civilian bag, make sure they are less than 100ml each. Total amount cannot exceed 1 liter. And place all the liquid items inside a clear ziplock bag.
3. No knives, scissors or any sharp objects are allowed in carry-on bags. 
For more information regarding cabin baggage and checked-in luggage, please refer to the following resources:
---
Interesting Stuffs
Shoalwater Bay is like a wild zoo where you can see quite a lot of different wild animals here and there. The most common ones are wallabies (small-sized kangaroos), emu, cows and horses. I've even seen an emu family and a few wallabies came into our camp (photos above)!
Get ready your handphones and take photo when you see them. (But don't get caught by the MPs there!)
Complete Darkness
In Singapore, there is a lot of light pollution because we are a small urbanized country. However, there's literally no light pollution at Shoalwater Bay when you're out in the field. So you're able to experience the complete darkness at night, especially when there's no moon.
Magnificent Stars
Shoalwater Bay has one of the best stars I've ever seen in my life so far. There literally tons of stars in the clear sky. No cloud, no light pollution. Magnificent!
But sadly, it's so dark that even iPhone cannot capture the beautiful view. So when you're out in the field at night, don't forget to look up at the sky and enjoy this awesome view.
Beautiful Photos
---
What Souvenirs To Buy in Australia?
1. Jumpy's Kangaroo Chips
It's a kangaroo-shaped snack which is not just yummy but a good gift from Australia for your friends and family.
2. Tim Tam
Tim Tam is a brand of chocolate biscuit made by Arnott's which originates in Australia. I thought it can only be bought in Australia but I just saw it in Cold Storage as well. Anyway, you should still buy it there because it's a lot cheaper. It costs AUD$2.50 per packet (as shown in the photo) but it costs around 4 SGD dollars in Singapore.
3. Arnott's Chocolate Chip Cookies
I love all the biscuits and cookies made by Arnott's. In fact, I ate a lot of Arnott's cookies during Wallaby because it's a typical night snack provided.
If you're a chocolate lover, you definitely need to get Tim Tam and Choco Chip Cookies!
By the way, I think you can buy Arnott's Cookies at Fairprice as well because they are distributing to the world, just that it'll definitely be cheaper if you buy in Australia's supermarket.
4. Uncle Tobys Muesli Bar
Uncle Tobys Muesli Bar is very famous in Australia, just like its slogan: "Aussie Faves". My friend who is very particular about food commented that Uncle Tobys Muesli Bar surprised him because all the flavours are pretty good. He also said that there are definitely lousy flavours from other muesli bar companies.
As an extreme chocolate lover myself, I bought the chocolate flavour once again.
5. Kangeroo Jerky
Yes, you hear it right. It's "Bak Kwa" made from kangaroo meat. It's the first time I came across this thing. I saw crocodile jerky as well. But I didn't buy them because they are quite expensive.
It is something you can try though. This is how it looks like:
P.S. I bought these all in Woolworths supermarket!
I wanted to buy the Vegemite Food Spread as well. It's a special food spread originate in Australia. But I realized I don't have my duffel bag with me and it cannot be put in hand carry bags because it's considered a liquid item.
---
My Overall Experience & Final Advice
All in all, Exercise Wallaby was a really really memorable and fun experience for me. I'm sure I won't forget all the tough and funny moments there. Although I was really nervous at the start, I quickly got used to the environment and the routines there. It was a really good way to end my NS journey. I'm sure it's the same for you if this is your final outfield.
I know what you may be feeling right now but let me assure you that you'll enjoy and cherish the time there after you get used to it.
The most important thing is that now you're much more prepared for Wallaby after reading this post. So, there's nothing to be afraid of. Do your necessary force prep, get the things you need and you're good to go.
I wish you a safe journey ahead and don't forget to share this post with your friends to help them prepare as well!
Last but not least, if you have any questions about Exercise Wallaby, don't hesitate to leave them in the comments below and I'll answer you to my best ability.
---
Relevant Wallaby Posts You May Be Interested
---
Disclaimer:
1. All the information provided in this post are based solely on my own experience as an Armour Infantry Trooper in Ex. Wallaby 2017. There will surely be changes and improvements being made in every year's exercise. I cannot guarantee the information I provide will be 100% accurate and reliable for the exercise in your year.
2. Some of the links in this post are affiliate links. This means that if you decide to purchase anything through my link, I'll be able to earn a small percentage of commission at no extra cost to you. These small earnings help me maintain my site. Rest assured that the products I recommended are based on my own experience.
Not Sure What to Do After ORD?